YOUR WAY to a successful project!
Well-designed project management has the task of structuring processes, making resources and workflows easier to plan, and creating more transparency for everyone involved. Properly implemented, this leads to a smoother process, higher profitability and better work results.
This requires an efficient and continuous approach. SMARTly formulated project goals and the right moderation are just as important as a well thought-out project design.
The choice of the right tools and the important framework parameters for project controlling also play an essential role in the success of a project.
We support you in every phase of the project – from the development of the right project strategy to the definition of realistic milestones and quality gates to the evaluation of the project and the derivation of lessons learned.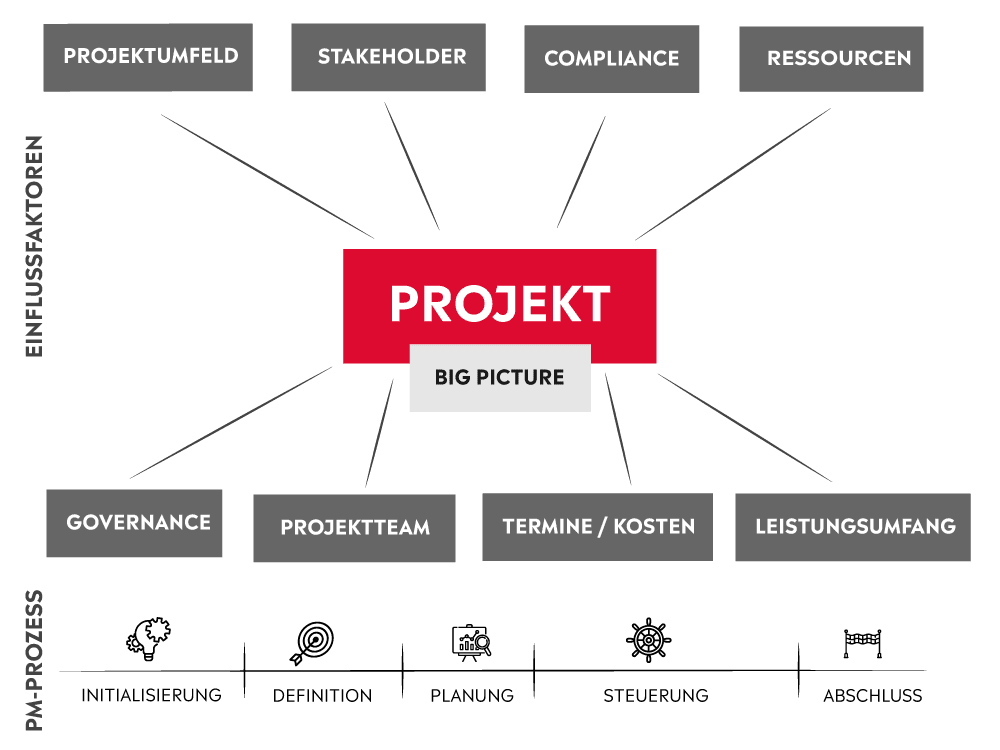 Various industry experience
IT
Food&Beverage
Medien/Kommunikation
Health&Life Science
Found expertise through over 50 completed projects
.
Research and development projects
Organizational projects
Investment projects
We provide you with an external, dedicated project manager who accompanies projects or sub-projects from the initiation phase to the completion phase.
We develop the appropriate project design for your project. Our project managers apply classic, agile (SCRUM) and hybrid approaches.
We accompany you throughout the entire project: from the creative capture of the first ideas to the evaluation of the lessons learned or the retrospective.
We take over the review of the project progress and the compliance with quality gates and milestones and keep an eye on performance, deadlines and costs.
Project Management Office / PMO
We are also happy to take over planning, recording and documentation tasks as well as the creation of project management manuals for you.
We help you to moderate projects and pay attention to cultural mediation and conflict moderation. We convey real team spirit – making it fun for everyone involved to work on projects together.
How it works
No matter whether your company is already engaged in intensive project management or whether you are just starting out: you are in the right place with us!
1. simply send us an inquiry with some information about your company and your project – gladly by phone or by mail.
2. Together we clarify the details and define the framework conditions.
3. we arrange a first appointment for SMART goal formulation of our joint project.
4. together we bring your project management tailored to your company on the road to success.
Haben Sie ein konkretes Anliegen?
Schreiben Sie uns noch heute eine Nachricht oder rufen Sie an!