Web development &
Digital solutions
BECOME VISIBLE, REMAIN VISIBLE
We offer professional and efficient web development with sophisticated and fail-safe technology, distinctive language and expressive images.
In this way, we create a uniform appearance that really makes your company a brand. By combining technical know-how with many years of editorial experience, we are able to offer our customers an all-round service that covers all the elements that a modern internet presence should contain, from concept to programming to content development and graphic design. After all, a consistent, authentic brand presence is the cornerstone of any successful marketing strategy. This requires creativity, ideas, but above all: a lot of planning and coordination.
As a competent and objective consultant, we develop suitable concepts together with you, embedded in a consistent overall strategy that fits your company.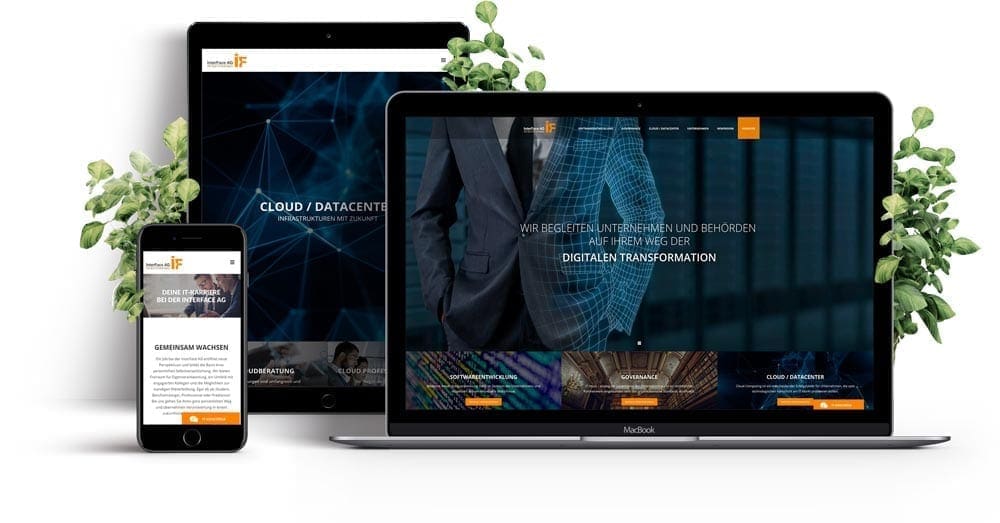 Rely on our many years of expertise in the holistic development and support of web applications and digital solutions – regardless of size and technical requirements.  
Expand your target audience with a modern and appealing web presence by communicating your content and brand message in a sophisticated way.
.
Concentrate on your core business and leave the technical maintenance to us.
24 hours – 7 days a week.
The combination of our agency's adept handling of web development and design combined, if required, with the experience of an IT service provider (InterFace AG) operating for 30 years in the fields of software development, cloud, DataCenter, governance and DevOps in the enterprise environment form the basis for developing web applications and many other digital solutions along the needs of our customers.
Website planning & conception
We help you define goals, plan your web presence, develop your website and implement any of your desired actions.
Tailor made customizations
Whether it's branding, increasing search engine rankings, or attracting new customers, we focus on your goals.
Enterprise-Ready-Webdesign
Together with our cooperation partner, InterFace AG, we also develop web applications for large companies and corporations.
We regularly maintain your website and continuously take care of its upkeep according to the latest technical standards.
You concentrate on your core business, we take care of the operation and hosting – gladly also in a European data center.
Expressive texts, photos, graphics and videos – everything your website needs for its further strategic development, it gets from us.
How it works
Cooperation with our web development department is simple and straightforward.
1. Send us a non-binding request and tell us how you want to change your existing web presence or which digital problems we may solve for you.
2. We outline initial ideas and proposed solutions, which we package into a concept individually tailored to your situation and send to you.
3. In close cooperation with you, we further develop our initial ideas and build your web presence from scratch.
4. On request, we give your brand a completely new design including logo and distinctive CI. The close cooperation can be extended as desired on request.
Do you have a specific concern?
Drop us a line or give us a call today!